Laser is first and foremost a sophisticated light source, with unique physical characteristics. Compared to the regular light that we know, laser energy is a focused light beam of different wavelengths. Laser technology, only recently introduced to the dental care field, now enables us to perform most dental procedures without pain and without the need for local anesthesia (no injections), with no bleeding or risk of infection.

CO2 lasers have already been in use in surgical procedures for a number of years in various medical fields, such as skin, ENT medicine and more. Recently, laser technology entered the dental field as well. Laser technology is used to perform oral cavity surgeries without local anesthesia (painless surgeries), prevent thermal sensitivity in the root of the tooth, remove tumors and more – all this with no bleeding and no pain.

Another laser which recently came into use is the Erbium:YAG laser. This laser is used for treatments of the hard tissue – the teeth. This laser can be used in dental filling preparation and in plaque removal – procedures that are traditionally performed using the dental drill. The laser is unique in that it is as efficient as the dental drill, but since it is painless, it does not require an injection. The laser beam does not touch the tooth, so the patient does not experience the vibrations or the frightening noise of the dental drill.


These lasers present a significant breakthrough in modern medical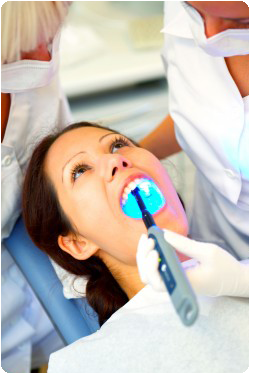 medicine. They enable a more comfortable and anxiety-free treatment for patients who neglected dental treatment due to dental phobia. An additional laser system enables teeth whitening in a just a few hours (instead of a few weeks) and with greater efficiency than any other tooth whitening method. The laser enables the activation of the whitener more efficiently than any other method used today, so that the whitening procedure can be completed in a very short time (a single dentist visit). In addition, the whitening results are better than with any other whitening method. The whitening is performed by a combination of two laser systems, argon and CO2 lasers. Lasers also enable cleaner and less painful plaque removal than when performed by the traditional method. Lasers enable us to offer our patients 21st century dental care.

In addition to lasers used by dentists, there is a low power laser that is more delicate, safe, with healing properties and with a positive influence on the body's tissues called Low Level Laser Therapy (LLLT). This laser is used by doctors as a healing method after various medical procedures. This laser does not generate heat and does not scorch. It heals with the help of light, which makes it a fast and safe healing mechanism with no risks or side effects.

More than 2,000 scientific research studies have been conducted over the past few years regarding the LLLT's healing abilities and the studies clearly indicate a high success rate. No surgeries, no anesthetics and no medicines. LLLT medical therapy began during the sixties when the Hungarian Prof. Endre Mester used LLLT to successfully treat patients suffering from ulcers resulting from problems in blood vessels (venous ulcers), when no other treatment helped. Laser treatment is a natural treatment performed using equipment at various power densities and alternate wavelengths.

The treatment dosage is set according to the nature of the medical problem and the laser type needed for the treatment. The treatment transfers bio-photon light particles into the tissues and cells, which stimulate chemical processes inside the body improving the cells' division and regeneration. The treatment with laser causes hormone secretion and the creation of all types of cells, such as cartilage cells, bone cells, muscle cells, tendon cells, etc. This improves blood flow, strengthens the immune system, and causes efficient absorption of calcium in cells.

All these benefits make the LLLT treatment a natural solution for many health problems. As the wavelength increases, the tissue penetration is deeper and may reach 5 cm deep in the soft tissue. The penetration depth is set by the laser's wavelength. A research study conducted at Tokyo University that followed 12 thousand patients over the course of 13 years indicated an 82% success rate for healing orthopedic, blood vessel, and ulcer problems.

Many other research studies published in the leading medical journals in the world all report highly positive results for LLLT treatments compared to conventional pharmaceutical and surgical treatments. The world's leading clinics, hospitals, and universities select LLLT as a treatment method with a very high success rate.